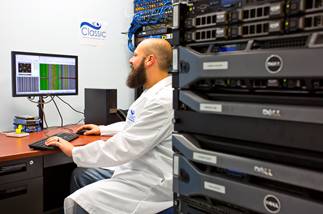 Classic Optical's Technology Team is expert in designing software programs to enable real-time benefit verification, custom electronic billing systems and streamlining all transaction processing. Employing state-of-the-art technology and innovative thinking, Classic Optical custom designs real-time integrated infrastructure to reduce customer cost, eliminate administrative burdens and increase program performance.
For each customer's specific needs we:
Design/deploy client specific websites
Establish data interface platforms
Set up utilization databases, and
Launch unique customer service tools
Online ordering systems have been designed to be virtually error free and can tie into client specified materials only permitting order entry that coincides with plan design entitlements. For providers, we offer multiple online ordering systems including our own proprietary smart system. All seamlessly integrate with our administrative system to streamline processes for ECPs' offices. In addition, our sophisticated computer systems enable us to track orders throughout the production process and generate progress reports that are essential to ensuring the timely production of our high-quality products and providing real-time responses to provider inquiries.
With leading edge technologies and integrated quality assurance systems, we offer solutions that can be brought to the market efficiently and cost-effectively to achieve customer savings above industry benchmarks. Our interface can be fully transparent, and services offered can be private-labeled.