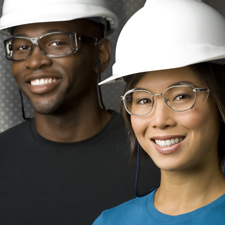 Custom Eye Protection Programs
Classic Optical has been customizing eye protection programs for the workplace for more than 25 years. All Classic Optical safety eyewear meets FDA, ANSI and OSHA standards. Classic Optical's Industrial Safety Eyewear Programs can accommodate any company, no matter its size, within the full spectrum of manufacturing, and currently serves many businesses through a wide range of industries.
Traditional Employer-Sponsored Programs
Classic Optical offers traditional safety eyeglass programs. Employees visit their local eye care professional (ECP) for an eye examination and prescription and then submit the Rx, fitting measurements, and frame selection to his or her company's in-house health, safety, or human resources personnel. These staff members in turn forward the order to Classic Optical for fabrication. Upon completion of the order, Classic Optical returns the eyewear to the company's designated personnel or the employee's ECP for final eyewear fitting and dispensing.
Custom Programs
Classic Optical's Volume Purchase Program Team works directly with an organization's health, safety, and human resources team to develop a custom program that meets the industrial safety eyewear needs of the workplace.
Local Network and On-Site Dispensers
Classic Optical develops custom-tailored Local Optometric Provider Groups within close proximity to an employer's facility so that employees may procure safety eyewear in accordance with the company's pre-determined policies and procedures. Classic Optical also works with the designated Local Optometric Provider Group to select a qualified optician to visit the employer's facility(ies) on a regularly scheduled basis to fit and dispense safety eyewear to eligible employees. These select eyecare professionals are highly qualified to conduct comprehensive eye examinations and provide dispensing services for both personal and safety eyewear.
In both cases, all prescription, fitting data, specifications, and required copayments, are handled between the provider and Classic Optical, independent of the involvement of the organization's health, safety, or human resources personnel.
Direct to Providers
Classic Optical offers specialized packages for providers who have customers needing Safety Eyewear. We work closely with the ECP offices nationally to understand the end-user's needs to ensure the eye safety of employees in the respective workplace.
Personal Protection Eyewear (PPE) Products
Classic Optical takes great pride in supplying its customers with only the finest products available, including Uvex/Titmus, Aden, On-Guard, Hudson, and ArtCraft, each of which fully adheres to the ANSI Z87.1 Standard for Occupational and Educational Personal Eye and Face Protection Devices. Lenses are engineered to meet ANSI's two levels of performance, basic or high impact for maximum safety. Classic Optical recommends polycarbonate lenses as they are up to 10 times more impact resistant than plastic or glass lenses, while concurrently providing up to 100% protection from harmful UV rays.